EXPERIENCE THE TIMELESSNESS AT OUR MYSTIC JAISALMER HOTEL
A boutique hotel with mystique and charm, Mystic Jaisalmer is your desert home. A community. An experience..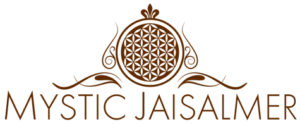 Rest your head in comfort and style. Feel the magic and be allured. Relax and feel at home. You have entered the world of timelessness in the enchanting Sand City of Jaisalmer, Rajasthan.Pristine, comfortable and delightfully decorated rooms are coupled by warm, attentive service from our Mystic family, ensuring our guests a cozy, relaxing stay.
GET THE LUXURY BOUTIQUE TREATMENT

OUR VISION:
This being human is a guest house.
Every morning a new arrival.
A joy, a depression, a meanness,
Some momentary awareness comes
as an unexpected visitor.
Welcome and entertain them all!…
Be grateful for whatever comes,
because each has been sent,
As A Guide from Beyond.
~ Rumi
CUSTOMISED PACKAGESMADE FOR YOU ❤