Mystic Jaisalmer is located in the town of Jaisalmer:Welcome to the centre of the golden City!
Jaisalmer, also known as the Golden City, is a fort town founded by Maharawal Jaisal in the year of 1156 AD when the capital was moved from Ludharva (18 km away from Jaisalmer).   The ruling family of the Jaisalmer state belongs to Bhati Clan of Yadu Rajputs of Chandrawasnshi (Lunar) race who claim descent from Lord Krishna himself.  Jasailmer was one of the nine forts constructed by the Yadu Rajputs, the others existing at Kashi, Mathura, Pragvad, Gajni, Bhatner, Digam, Dirwal, and Lodurva.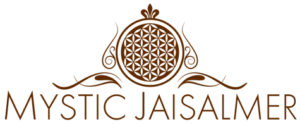 A former princely state and medieval trading centre, Jasailmer became known as the Golden City as most of its temples and homes are built of the yellow sandstone that sets the tone of the environment.  The town is dominated by the fort with its royal palace, sandstone homes and Jain temples.  Sprawling around it is a peaceful golden city with bustling marketplace, golden hued homes and businesses, colourful locals and their livestock. The city itself lies in the Great Thar Desert, and as far as the eye can see in the horizon you can gaze at this natural wonder.  Today Jaisailmer is recognized as a Unesco World Heritage Site and is a major tourist destination on the India travel circuit, however it also has a strong appeal for being a real living town of almost 100,000.  The fort itself is considered a rarity as it is a living fort with almost one quarter of the population living within its walls.  The town attracts merchants and villagers from a wider region of 700 villages.  A mix of old and new, rural and urban, modern and ancient traditions gives a unique aura of mystery and intrigue.
Inspired by these traditions and the ancient Silk Route location, the new Mystic hotel invites the modern traveller to unwind and join in creating the new stories of our generation. With many places to rest your weary body, from comfortable rooms and a cool multi-cuisine restaurant, to a rooftop where you can have your chai with a majestic view of the fort, there is ample opportunity to let your imagination take over.  

Reservations
for reserve your place, please click on Book Now.
Please do not hesitate to contact us if you any any question. .
+91 9 672 730 954
info@mysticjaisalmer.com
CUSTOMISED PACKAGESMADE FOR YOU ❤